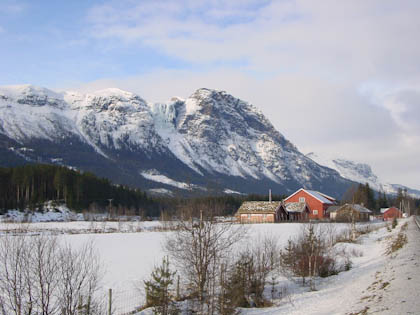 Welcome to Søre Hjelmen.
Søre Hjelmen is a collection of farmhouses along the river Hemsila, in Hemsedal county. One of the old farm houses, "Gamlestugu" has been modernized to accomodate tourists to the beautiful Hemsedal region.
"Gamlestugu" keeps a high standard, with a big lobby, floor heating, bathroom with shower and sauna, and a big living room with fireplace, TV with DVD player and a cosy loft. Here you can relax after a beautiful day in one of the many exciting ski-areas in Hemsedal, or after a day in the skicentre. The kitchen is well equipped with a fridge and dishwasher. The house has two bedrooms, one with a bunk-bed, and one with a double bed and a loft with another two mattresses. In total the house sleeps six people.
Dinstance to:
supermaket: 5 km
(illiminated) nordic ski tracks:9 km
Skicentre: 12 km.
The house van be rented by the week, weekend or midweek.
Show bigger map
Prices start at kr 1.900,- per week.
Søre Hjelmen is situated along Rv 52, 10 km from Hemsedal center in the direction of Gol (20 km from Gol center).